2018 Summer Camp
Each week we will read a book by Dr. Seuss and incorporate aspects of the book into our lesson plans!
Check out our Summer Camp informational brochure here:
This week (Week 3 / June 16 – 20) we are reading "Bartholomew and the Oobleck". A great lesson on admitting when we make a mistake and saying, "I'm Sorry" We had a visit from Titanium Travis from Mad Science on Monday! We had a great time learning about dry ice and making oobleck!
Our first week we read "If I Ran the Zoo". During water play we added in some mud and zoo animals with an area to wash them off. The children loved getting the animals all messy and then cleaning them off! We made our own pond with water animals in it! A sandy bottom with blue jello water gave lots of sensor input for children! We used shaving cream to make "white caps" to play in!
On Monday morning we got a wonderful visit from Snowball and Zen. Two owls from A Place Called Hope. Ms. Christine gave a wonderful presentation. The children thought it was a "hoot"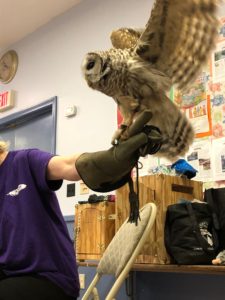 Our second week we celebrated the 4th of July birthday party style! We read the book, "Happy Birthday to You". We added red and blue ice to our outside water play this week – perfect for cooling off on a hot day!